Dear [subscriber:firstname | default:Friend]
December 21st 9pm London time.
Below is a reminder of what to do on the day of the Global Silent Minute.


Update: From a magnetic seed born earlier this year when three groups were on retreat, the momentum for the Global Silent Minute has blossomed in its outreach to approximately

50 million

.
The Global Silent Minute offers an unprecedented opportunity to unite at the exact same minute in thought, prayer and meditation with millions to reach our highest potential and greatest destiny: peace on earth.
What do I do on the day of the Global Silent Minute?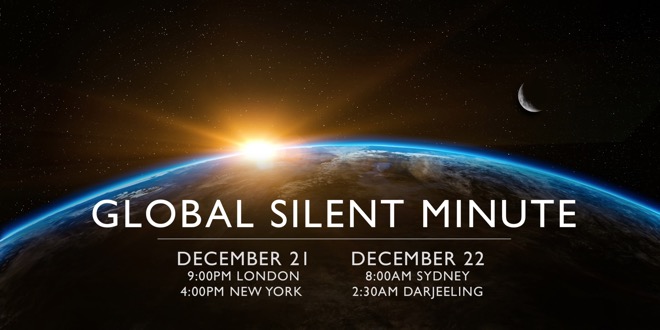 At the exact time of the Global Silent Minute, wherever you are, ring a bell ... and commence the minute of Silence.


Instructions
Find the date and time in your timezone.
Add a reminder to your calendar.
Read about our Facebook event.
Read about preparation.
Quote of the week
"A well-known Rishi sat in silence, his expression one of striving.
He was asked what it was that absorbed him so. The Rishi answered, "At this moment I am building a temple."
"And where is this temple that you are building?"
"Twenty days' march from here; the builders are in great need of help."
"So even in your inactivity, you build?"
The Rishi smiled, "Is action only by the hands and feet?"
Sydney Goodwill
Level 2, 257 Broadway,
Glebe NSW 2037 · Australia
t:
+61 2 9566 2708