If you've found you're feeling a longing to make a pilgrimage to a site that holds special significance in your heart, chances are you may be responding to a call of your spirit.
Wellesley Tudor Pole, Founder of the Silent Minute, as well as the person behind the purchase of Chalice Well in Glastonbury, UK to create a space for pilgrims to journey for renewal of their spirits, had some beautiful thoughts about pilgrimages, Archangel Michael (also known as St. Michael) and the New Era encapsulated in the meme below.
Wellesley Tudor Pole urged us to tend to all magnetic centres around the planet. We can certainly do that by our presence through pilgrimages; honouring their Guardians on arrival and departures; and whilst present – in small practical ways – through our thoughts, words and deeds.
Wherever we are, we too must remember that just as there are centres across the globe, there is also a centre within each and every one of us. It resides in the heart where the spark of spirit is anchored and remains eternally in touch with the stars.
We are truly guardians of the space we inhabit and every moment offers us the opportunity to enhance (or pollute) the atmosphere around us. May we choose the former for the collective good as we travel to magnetic centres without and within – as we participate in the birthing of the New Era – through our thoughts, words and deeds.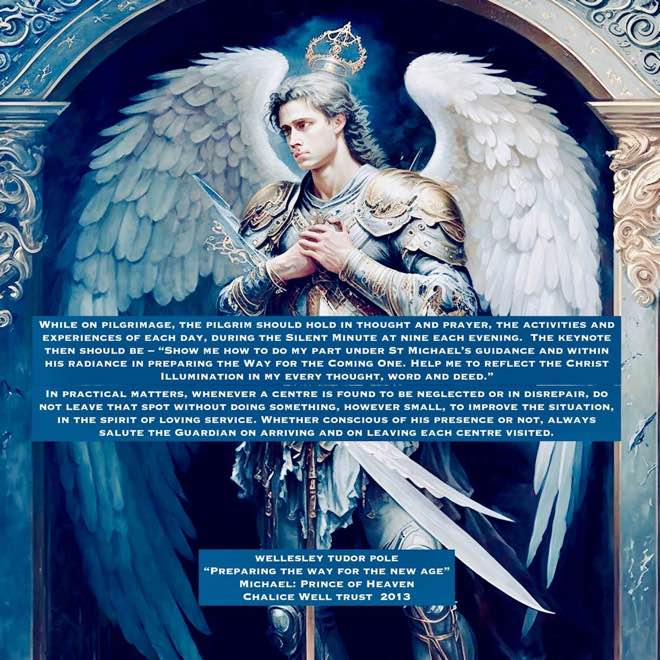 Whilst on pilgrimage the pilgrim should hold in thought and prayer, the activities and experiences of each day, during the Silent Minute at nine each evening.  The keynote then should be – "Show me how to do my part under St. Michael's guidance and within his radiance in preparing the way for the Coming One.  Help me to reflect the Christ Illumination in my every thought, word and deed."

In practical matters, whenever a centre is found to be neglected or in disrepair, do not leave that spot without doing something, however small, to improve the situation, in the spirit of loving service. Whether conscious of His Presence or not, always salute the Guardian on arriving and on leaving each centre visited."Wellesley Tudor Pole "Preparing the Way for the New Age" in
MICHAEL: Prince of Heaven
Acknowledgements:
Graphic Design: Wendy J Thompson / Text: Wellesley Tudor Pole
Image: Adobe Stock Images Archangel Michael (created with generative AI technology)