The Golden Mean has such a beautiful proportion and when we see it in paintings it has a "satisfying" feeling to the eyes. This is due to the Fibonacci numbers effect.
We can find so many examples of this in Nature; trees have branches that divide in this way, shells form spirals that conform to this template. The DNA double helix also has a similar base; we cannot help but see a Divine plan in this wonderful design.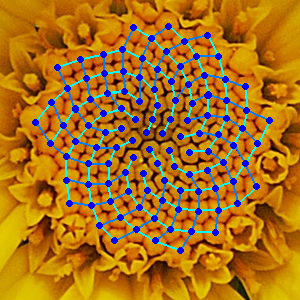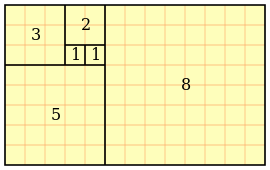 To give an idea, the diagrams below show how it is created. The 1st square has equal sides 1 x 1. The next 1 + 1 has 2 squares side by side, the next figure is 2 x 3 so the next figure has 2 units by 3 units. The next is 2 + 3 so the next figure has sides 3 units by 5 units and so on.
Nature's template
When a curve is drawn from one angle to the opposite angle, a spiral is created.
The Fibonacci Sequence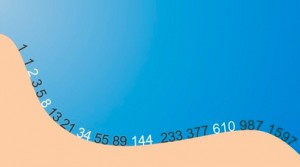 First recognized by Fibonacci, the sequence appears in Indian mathematics, in connection with Sanskrit.
About Fibonacci
Called the "greatest European mathematician of the middle ages", his full name was Leonardo of Pisa, or Leonardo Pisano in Italian since he was born in Pisa, Italy the city with the famous Leaning Tower, about 1175 AD. Leonardo grew up with a North African education under the Moors and later travelled extensively around the Mediterranean coast. He would have met with many merchants and learned of their systems of doing arithmetic. He soon realised the many advantages of the "Hindu-Arabic" system over all the others.
He was one of the first people to introduce the Hindu-Arabic number system into Europe – the positional system we use today – based on ten digits with its decimal point and a symbol for zero.